Sunday 2 December – 10am, Leytonstone @ McDonald's
The E11 / North Star Vélo Ride
Meet outside McDonald's in Leytonstone High Street E11 for 10am departure. If you have questions, call Dwight on 07973 131429.
Sunday 2 December – 11am, The Mill, Coppermill Lane, E17
The Sunday Cycle
Meet outside The Mill in Coppermill Lane at 11am. Return c. 3pm. If you have questions, email "Art Catcher" Katja.
Sunday 2 December – 3:45pm, Walthamstow Village Square

Twinkly Sparkly Ride
Celebrate the arrival of the winter months with a short sociable family-friendly bike ride round Walthamstow to view local festive decorations & illuminations.
You could consider decorating your bike with a bit of tinsel or more – we'll have a prize for the best decorated bike!
We'll set off from Walthamstow Village Square (junction of Eden Road & Orford Rd) at 3.45pm, cover 4-5 miles and end up back at the Square just around 5pm, with the option afterwards to retire to a local pub.
Sunday 9 December – 1pm, Ancient House E17
Walthamstow Family Bike Club's Open Spaces Ride
A relaxed and enjoyable afternoon travelling by bicycle and exploring the nooks and crannies in and around our borough. Frisbees sometimes materialise when we hit a suitable open space.
We aim to stop off at a café at about half time, but we recommend you bring a snack and some water.
Meet at 1pm at the Orford Road/Church Lane junction, E17 9RW, next to the old postbox opposite the Ancient House … see the map.
Sunday 16 December – 10:30am, Walthamstow Town Square
Take the Peaceful Route with Nic
Meet from about 10:30 for an 11 o'clock start outside Walthamstow Library / Farmers' Market.
Join Nic for the peaceful ride over mixed surfaces (be ready for a bit of mud!). The destination and direction of the ride will be discussed at the start and will account for wind speed and direction and may be train-assisted – so take your Oyster or contactless debit card with you.
Sunday 16 December – 2pm, Walthamstow Village Square

Walthamstow Family Bike Club's Newcomers Ride
This ride around the quiet streets in Walthamstow Village is intended for those new to cycling, including families with young children, and will especially appeal to those who don't have the stamina or confidence for our longer 'Open Spaces' excursions on the 2nd Sunday each month.
Basic skills are necessary: please make sure you are able to pedal and balance, turn corners, and brake to a halt .. all without falling off! If you are not confident about your basic skills, then we can recommend the council's free cycle training.
We'll keep together as a group and 'top and tail' the ride with marshalls, with an experienced ride leader at the front, and an expert marshall at the back to keep cars out of our convoy. We also have at least one other marshall who cycles on the right hand side of the group to help out with junctions etc.
We meet at 2pm in Walthamstow Village Square at the junction of Eden Road and Orford Road (for a map click here). We finish at the Square around 3:30pm.
Sunday 23 December – 2pm, Walthamstow Town Square
WFCycling Festive Ride
A short pre-holiday ride to the Olympic Park, and a café stop.
Bring lots of lights and reflective stuff and bells if you have any – we'll ride and celebrate!
Meet at outside Walthamstow Library, for a departure by 2pm. We should be back by 3-4pm.
Friday 28 December – 6pm, Walthamstow Town Square
Critical Mass
Come to Belvedere Road in the Southbank by 7:30pm to join this energising bike party if you're already in Central London, or else meet Nic outside Walthamstow Library by 6pm to ride there together.
Saturday 29 December – 10:30am, Town Hall, by the fountain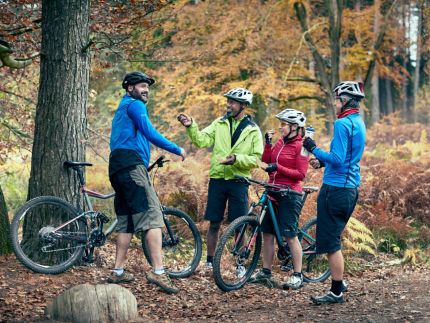 Lea Valley & Wetlands Loop
Join Bridget for a gentle family ride around Lea Valley & Wetlands. We'll be back by midday.
The route is mostly off-road, with two short stretches along quiet roads. The route will include some sections of tow path. Leisurely pace.
We will cycle via: the Lea Valley towpath round to the Walthamstow Wetlands trail and back.
Parking is free in the Town Hall car park on Saturday. Please arrive early, giving time for a quick bike check before setting off on time. Please bring a spare inner tube.
Please register here.

Every Saturday – 8:30am, Leytonstone @ McDonald's
North Star Velo Road Rides: easy & medium paced
Whether you want to try road cycling and don't know how fit you are, or you're ready for a medium-paced effort, join the club.
Easy rides maximum 30 miles
Medium-paced rides c. 50 miles.
Meet outside McDonald's in High Road Leytonstone.
Back in time for lunch, or a pint at the North Star!
North Star Velo also run frequent midweek short road rides, evening and sometimes morning so do check their website!
If you would like your ride listed here just get in touch.
Want to try family bikes and trikes? Rent one for the ride directly from Waltham Forest Council.